Rumpl X Iron & Resin: Limited Edition Blankets
---
When we found out that we'd be working with the crew over at Rumpl this year, we were amped. The idea of a Rumpl X Iron & Resin collaboration on a few, one-of-a-kind, limited-edition designs of an Original Puffy Blanket and Sherpa Blanket for Fall 2018?! Hell yes!  
That's why we are damn excited to announce the launch of a super unique and super limited-edition collection of Rumpl X Iron & Resin Limited-Edition Blankets. Whether you are going to be patio-lounging, vagabonding, sleeping in your rig, waking up in the sand, we've got a few options to keep you warm this season, and beyond.
---
Last Ride Original Puffy Blanket
---
This upcoming season, we know that we'll be out there chasing that golden California sunset
or simply cutting out of the office early to catch the last bit of horizontal shadows that line the road to freedom. And when we do, we'll be bringing along the highly packable, ultra-warm
Rumpl x Iron & Resin Last Ride Original Puffy Blanket for the ride.
---
Made from the same stuff as those premium sleeping bags and down jackets you see out there, this one packs down to a mere 6.5" x 14" stuffsack and only weighs 2.1lbs. Honestly, you'll barely notice it's even there (just don't forget it). The 240g 3D Hollow Fiber synthetic insulation makes it a comfortable layer to sleep with down to 40˚F/~4˚C temperatures. The 20D Ripstop Nylon Fabric & DWR Shield makes it legit for those uncertain terrains you'll be tossing it down on, so no need to worry on durability or moisture. It's definitely a favorite carry-along for any adventure, great for yourself or for two.
---
---
Land & Sea Sherpa Blanket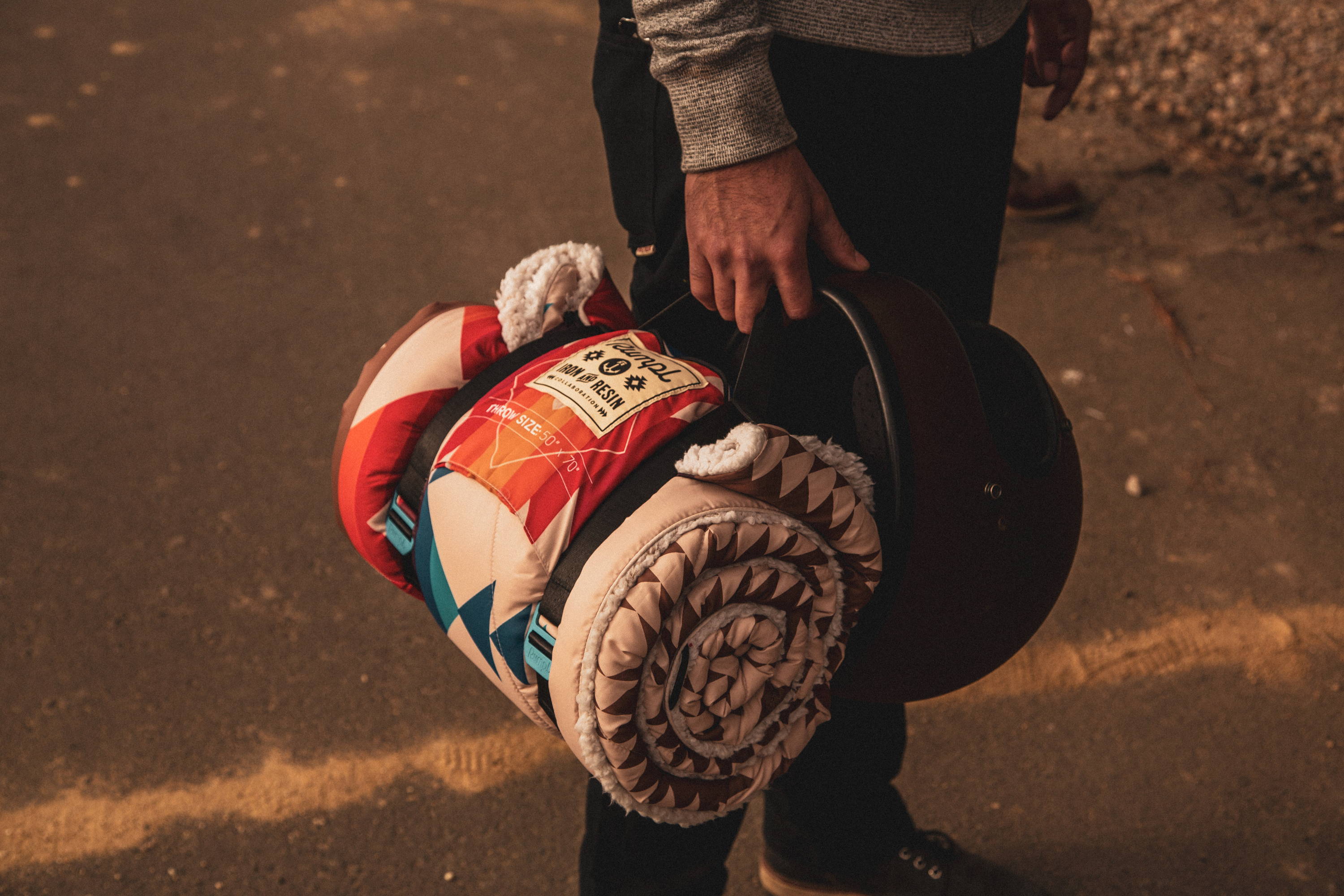 ---
The Rumpl x Iron & Resin Land & Sea Sherpa Blanket is a damn near perfect home, cabin or camp companion for this fall & winter season. The plush 100% Polyester Sherpa Fleece makes it great for warmth indoors, outdoors, or wherever you want to take it. It also makes it insanely soft and difficult to get out of bed, so beware...
---
---
Need to take it on the road? No problem. It comes with roll-up straps for easy packing or those last minute throw-in-the-back-of-the-car getaways. And yes, we already packed it on our bike for a test run, and we dig it. It only weighs 2.5lbs and unfolds to a 50" x 70" size to throw down anywhere you please, and it's packed with 100g 3D Hollow Fiber synthetic insulation to help you stay warm on those chilly nights. There's also a zippered pocket on the outside to throw any small items in as well. And don't worry about where you set it down either, its outer 30D Ripstop Polyester Fabric and DWR Shield ensures it will last anywhere it goes.  
---
Want to see more of Rumpl x Iron & Resin up on the socialsphere?
Head over to Instagram to stay in the loop.
---