Enduro Denim Jeans: Built To Last.
Denim jeans have always played a special role in the lives of hard working men.
from their origins as the staple clothing piece for Gold Rush miners of the late 1800s, to the spread of work pant denim of hardworking Americans in the early-mid 1900s, denim jeans have been a trusted partner through thick-and-thin. they're durable enough to withstand whatever you need them to and comfortable enough to feel good doing it. hell, we live in denim. everyday, as a matter of fact.
at Iron & Resin, we take a special interest in our denim. here at Iron & Resin, we take our denim pretty seriously. from the dusty forest trails of the Eastern Sierras, the shadowed corners lingering on Highway 33, or the sandy beaches of the Southern California Coastline, it was a necessity to make a pair of durable denim that would hold up to whatever was thrown at them. a pair of jeans that you could saddle on to your vintage Honda just as easily as you could throw on for a hard day's work.
there was a time when worn out knees and blown out crotches were a norm for us. for a while, it was just something that we had to accept. but there's a limit to how many pairs of denim jeans one man can destroy, right? that's why we set out to create the most durable pair of jeans: Enduro Denim Jeans
we've worked tirelessly for years to develop a denim jean that was made in the USA, especially a pair that will hold up to our abusive lifestyles. reinforced with Dyneema® for increased abrasion & tear resistance, these may be the last pair of jeans you'll ever need to purchase. here's a closer look at what makes the Enduro Denim Jeans the best built jeans money can buy.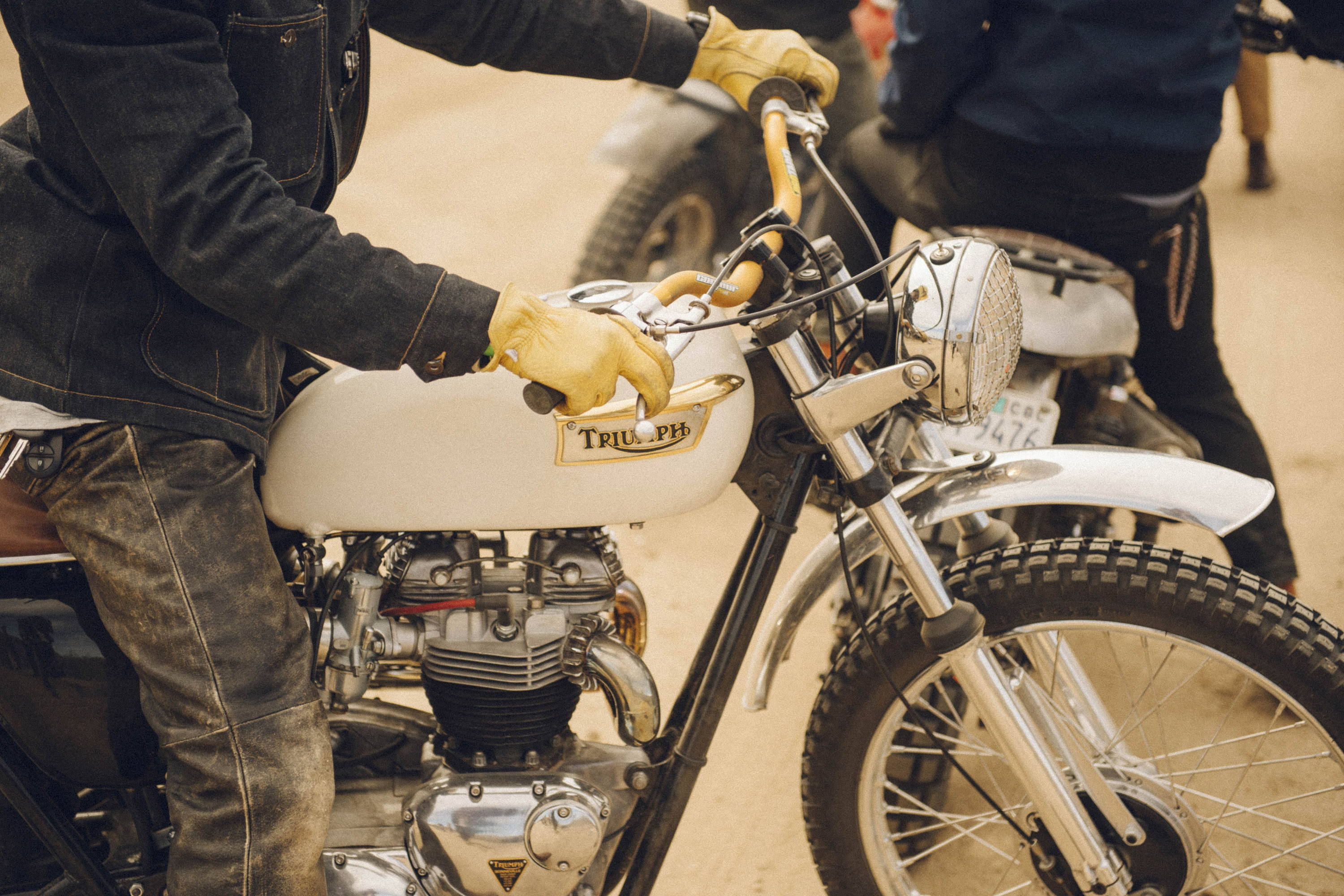 Dyneema® Denim: the world's strongest fiber
here's a really amazing fact straight from Dyneema® Fabrics: reinforcing our Enduro Denim Jeans with Dyneema® provides an increased abrasion resistance, tear resistance, and tensile strength. including 5 -10% Dyneema® increases the abrasion resistance of denim by 250-600%, tear resistance by 50-100%, and tensile strength by 25-100%. that's pretty radical and exactly what we're looking for when making a pair of denim jeans rugged enough for an all around lifestyle.
we guess that's where our Enduro Denim Jeans come into play. not everyone has time to throw on full protective riding armor every time they hop on the bike. plus, around here at Iron & Resin, we live in denim (we're sure you've heard that line before from us, too). now, you don't have to sacrifice one for the other.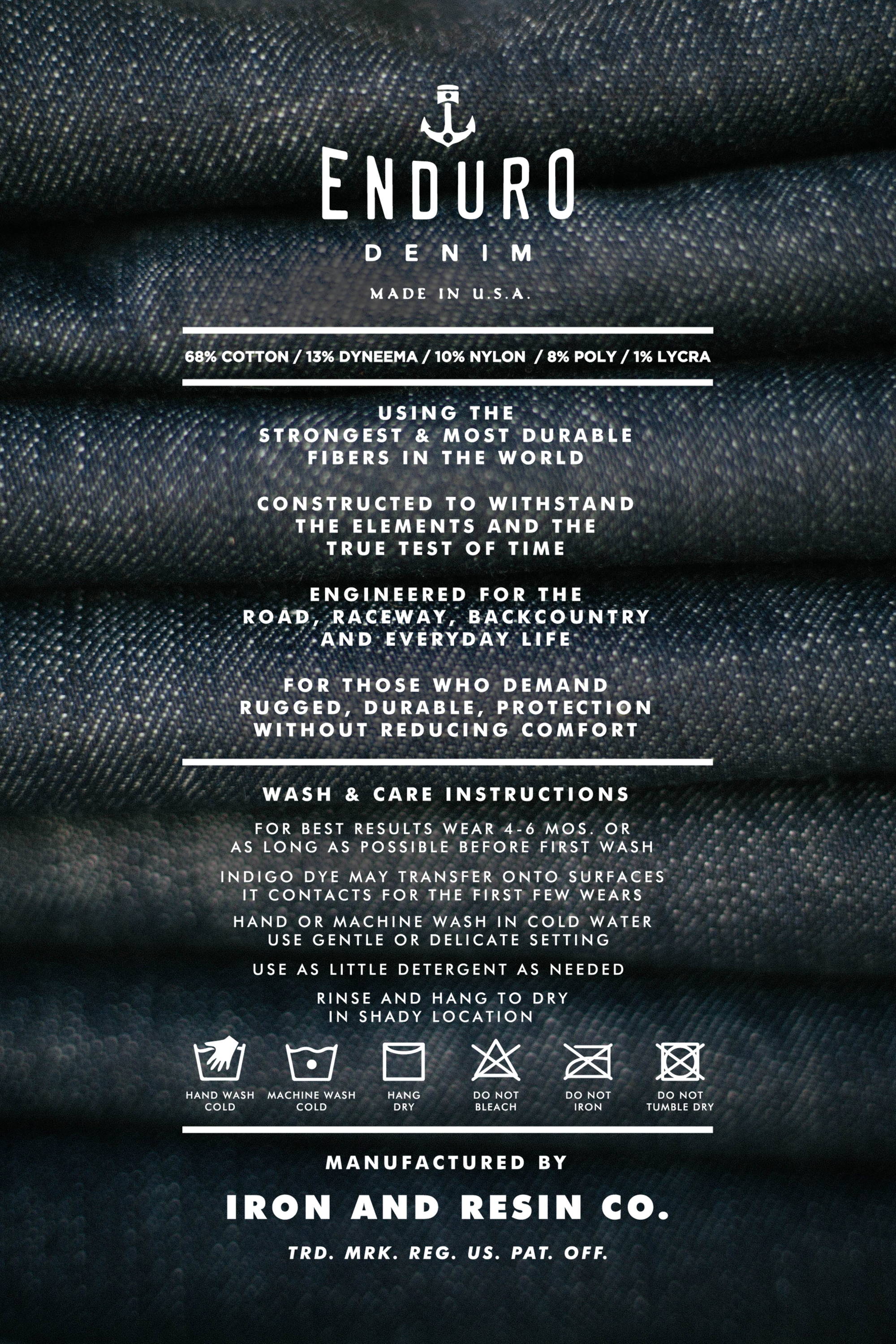 2017 was the official year - August 21st, 2017, to be exact - that we first launched our Enduro Denim Jeans. it was that year that we worked tirelessly to develop a denim jean that will hold up to our abusive lifestyles and won't fail us when the going gets tough. these are American made jeans, reinforced with Dyneema® in the actual yarn for an insane amount of protection for riders, everywhere.
we added a few nice bits to our design that most regular jeans don't even carry. for instance, our Enduro Denim Jeans come with an extra inch in the back belt liner, to keep your ass covered when you ride. keeping a classic fit in the seat and thigh area, we gave the legs a slight tapering to keep your jeans looking formed and fitted - on the bike and off.
here's the list of our Enduro Denim features:
12oz Enduro Denim: 68% Cotton / 13% Dyneema / 10% Nylon / 9% Polyester
Most Functional, Rugged and Durable 5 Pocket Jean Ever Built
Mid Rise Waist: for the perfect fit and coverage on the saddle
Western Style Pocket Shape - for easy access when standing or seated.
Classic Fit - in thighs and seat
Classic Tapered Fit - slight taper to cuff
Triple Needle Felled Rise and Back Yoke
9oz. Twill Reinforced Back Pockets
9oz. Black Twill Pocket Bags
Double Rear Belt Loop
Raw Veg-Tanned 'Enduro Denim' Leather Belt Label
Custom I&R Copper Button and rivets
Made in the USA

see that last bit? we're pretty proud of that.
we'd have to say these are the most durable pair of denim jeans on the planet. they're made for riders. they're made for you.
get yourself a pair today - they may just be the last pair of jeans you'll ever buy.