How To Care For Waxed Canvas
first, a bit about the history of waxed cotton canvas.
waxed canvas is one of our favorite materials thanks to its ability to hold up to tough jobs and extreme weather conditions. its use can be traced back to the 1800s, when Scottish fishermen were battling the elements on the North Sea and found they could keep their sails from absorbing water when treated with linseed oil. think about ol' Poseidon showing no mercy of rain, wind and waves; so survival was dependent on great clothing. soon, those salty sea dogs were repurposing old sails into weatherproof outerwear. wax eventually became the treatment of choice for heavy-duty cotton canvas and the combination's tough characteristics made it the standard material for workwear and military apparel. water-repellency & wind repellency discovery at its finest right there.
fast forward to present day and waxed cotton canvas is the #1 choice of material for Iron & Resin Outerwear. its ability to age like a fine whiskey - waxed cotton canvas literally takes on all the beautiful creases, scars, etc. from a road well travelled - is why we use it as a material in our outerwear jackets. from 2013 - 2020 we were using 10oz Martexin® Waxed Canvas in our very popular Rambler Jacket. it was the first waxed cotton canvas cut-and-sew-piece we ever created as a brand. we started making our right here in Southern California in 2013. for 2021, we've updated our material to 12oz British Millerain Co. Waxed Cotton. these textile experts were the pioneers of the development of waxed cotton, dating back to 1880.
in all, waxed cotton canvas is great for a wide range of outdoor uses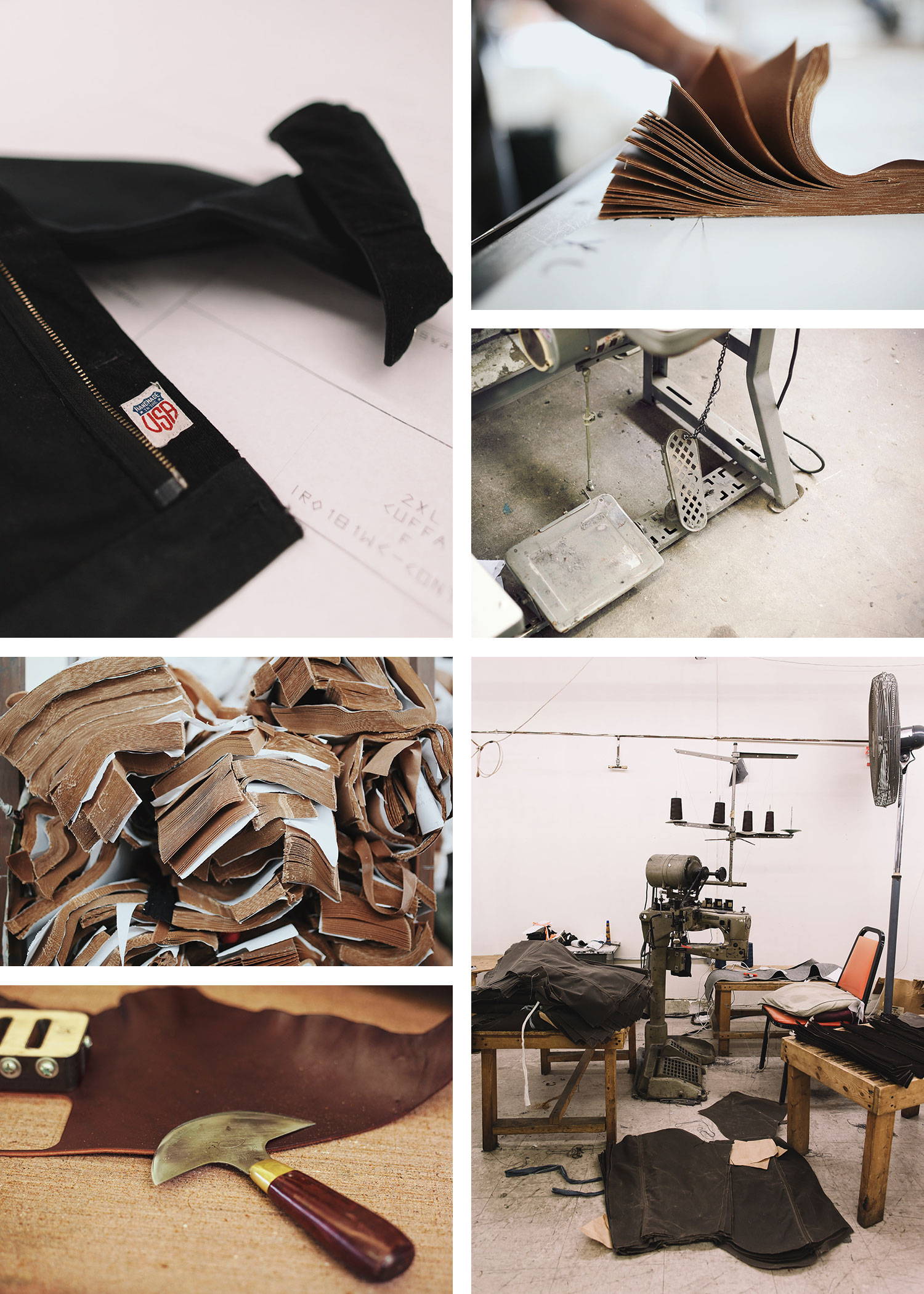 waxed cotton canvas breaks in like a dream, seriously.
one of the best parts of waxed canvas is that it develops a patina over a lifetime of enduring abrasive conditions. weathered-and-broken-in, it's a characteristic you just don't see as much these days, especially in a world so full of fast fashion. that's not us, we wear those torn-and-tattered scars like a badge of honor. because hey, good things never go out of style and great things get better with the passage of time. the more usage it gets, the better the look-and-feel. and the harder it also lasts a lifetime with the correct canvas care steps but we can get to that in just a few seconds here.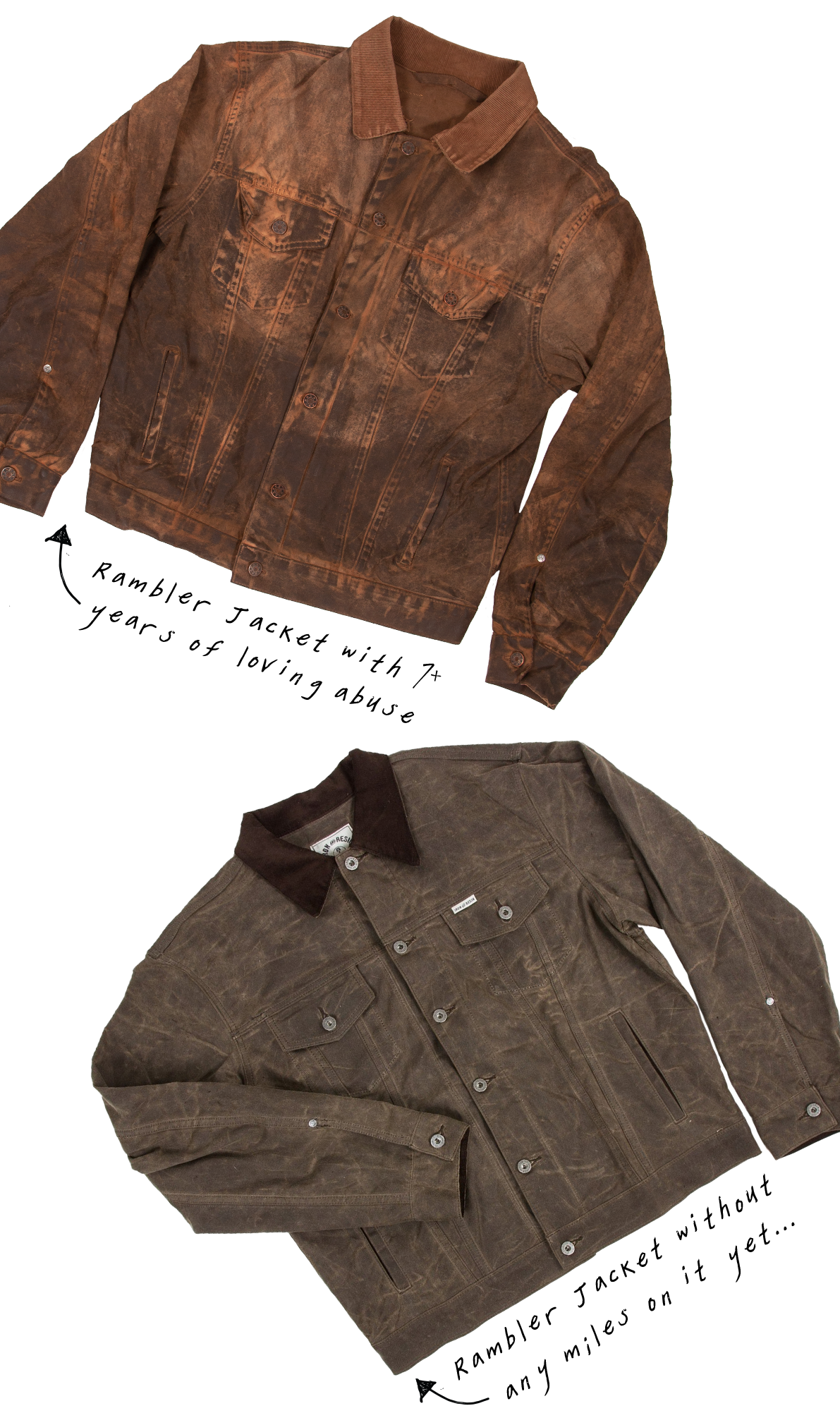 here's how you can take care of waxed cotton canvas.
when your waxed canvas goods are due for a cleaning, use cold water and a mild soap, like Otter Wax Castile Soap Canvas Cleaner, and gently rub it on with a sponge before rinsing. Afterward, let it air dry. If your items develop a less-than-ideal stench from years of quality abuse and adventures, use Otter Wax Odor Eliminator is great for combatting any odor that may be lingering.
never wash waxed canvas with warm or hot water, as that will release the protective coating, and stay away from abrasive soaps and detergents. no dry cleaning, no machine washing. roll up your sleeves and do it with your hands. it's the best and most rewarding way to care for your waxed canvas jacket (or anything else).
after a few years of hard use (if you're like us, even less), it's best - and highly recommended - to apply a new coat of wax... Iron & Resin carries waxed cotton care products like the Otter Wax Heavy Duty Fabric Wax or go all out with our Iron & Resin Waxed Canvas Care Kit. It comes with all the necessities one may need to care for their cotton canvas outerwear fresh and will easily revive the waterproof capability and keep your clothing functional when you're out in the field.
all in all, caring for waxed canvas goods is an important aspect of owning and using a product made from such a durable material. over the years of worn-and-weathered activities, it's ideal to take some time and put a little bit of loving care into your waxed canvas items. if you're interested in learning more about the diverse range of waxed cotton canvas outerwear jackets that Iron & Resin has to offer, take a look at our diverse collections below. and for your rugged outdoor apparel and workwear that won't quit, check out our complete selection of waxed care products here as well.