Workwear Built With A Purpose
why did we decide to do a cotton duck canvas collection?
we're definitely glad you asked...
well, first off, it a workhorse fucking material. and it's pretty simple, really, cotton duck is overbuilt. that's not a bad thing either. overbuilt means abrasion resistance. overbuilt means it's not going to fall apart. overbuilt means it will do what you need it to without the worry of being too hard on something. who the hell would want to worry about something like that? and we're talking about the simplicities of being overbuilt, too. a basic material that's been a proven choice for many years.
as a brand that's always striving to create goods that last, we're relentlessly on the hunt for the most durable materials we can find to work with. and one of the most enduring materials we've ever utilized in our production is cotton duck.
you may have heard us mention duck canvas before, or maybe even have one of our past pieces. we've used cotton duck, like our Union Work Pants or Mechanic Jacket, for all sorts of daily trades. changing oil on bikes. camping. nailing up james hardie lap siding on the house. sanding fiberglass. you name it. cotton duck is so damn versatile. and it truly breaks in like a dream fabric. one of our favorites by far.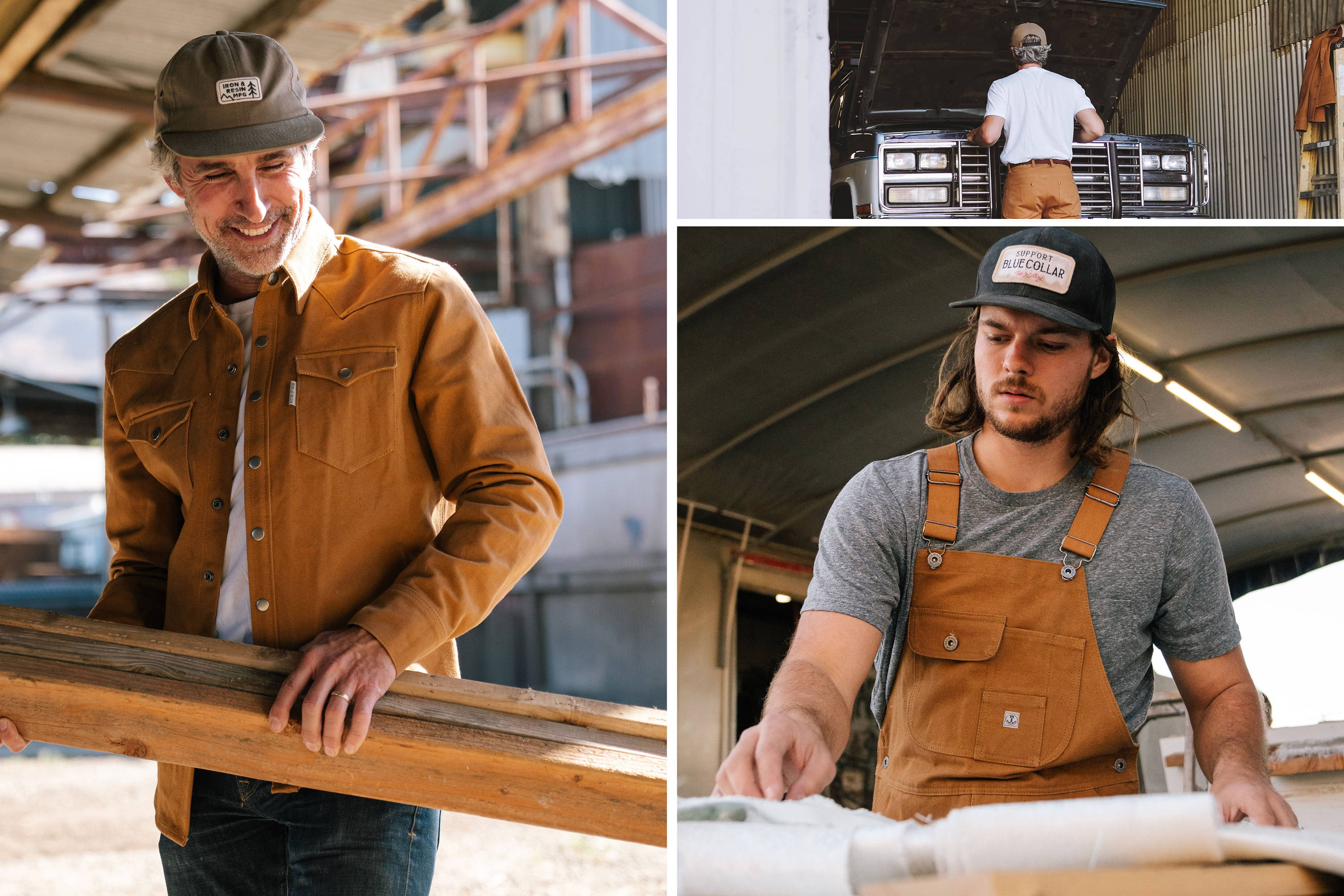 so what is it, this cotton duck stuff?
cotton duck, aka "cotton duck canvas," is a heavy, plain weave, cotton canvas that's been woven really tightly together to make one solid material to work with. remember those lawn chairs that had that stretchy cross-weave-looking-type-pattern? it's exactly like that (called warp and weft). it's that extremely tight weave that creates an incredibly dense, very durable, fabric that has been a proven choice for many ranges of workwear. and we dig it.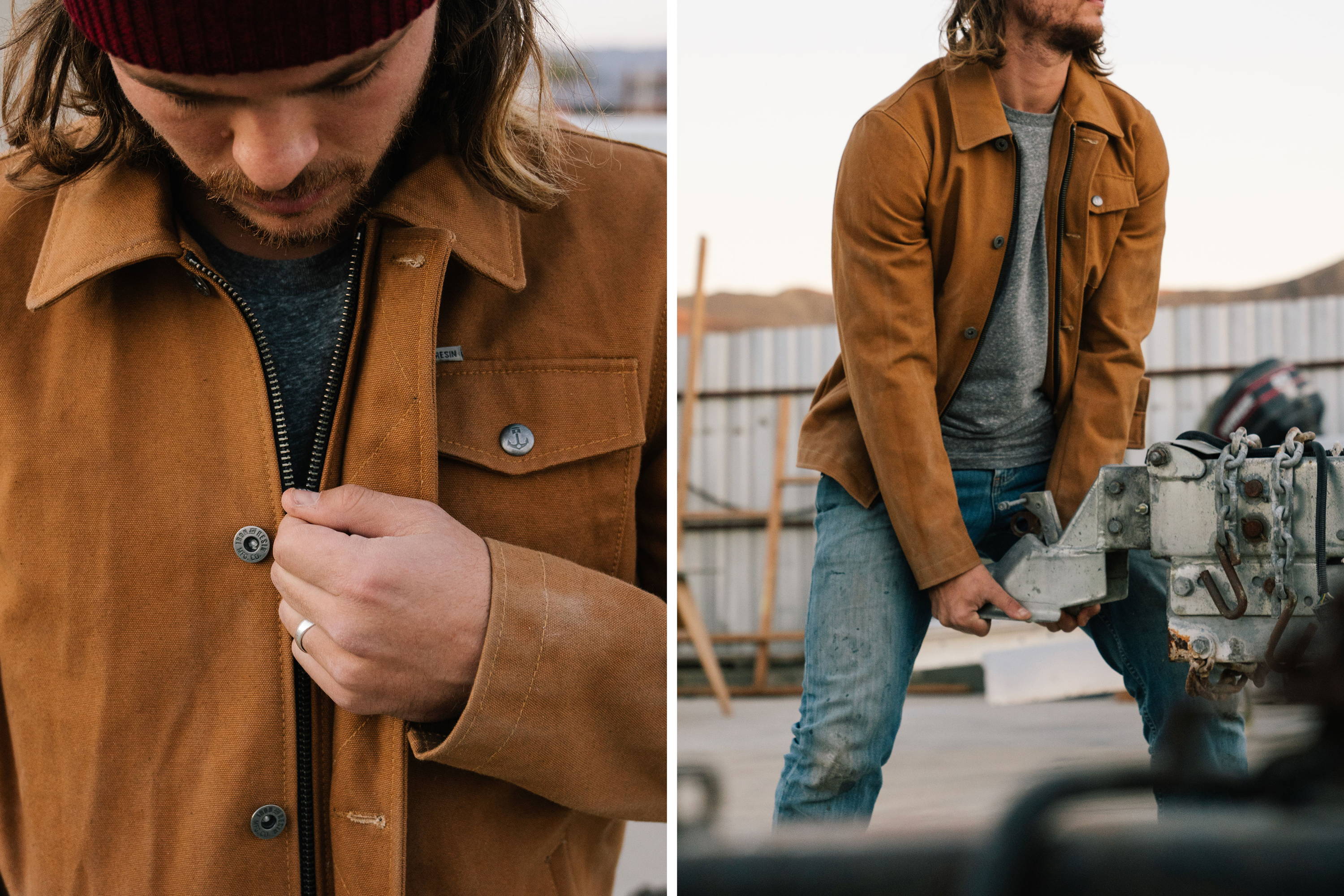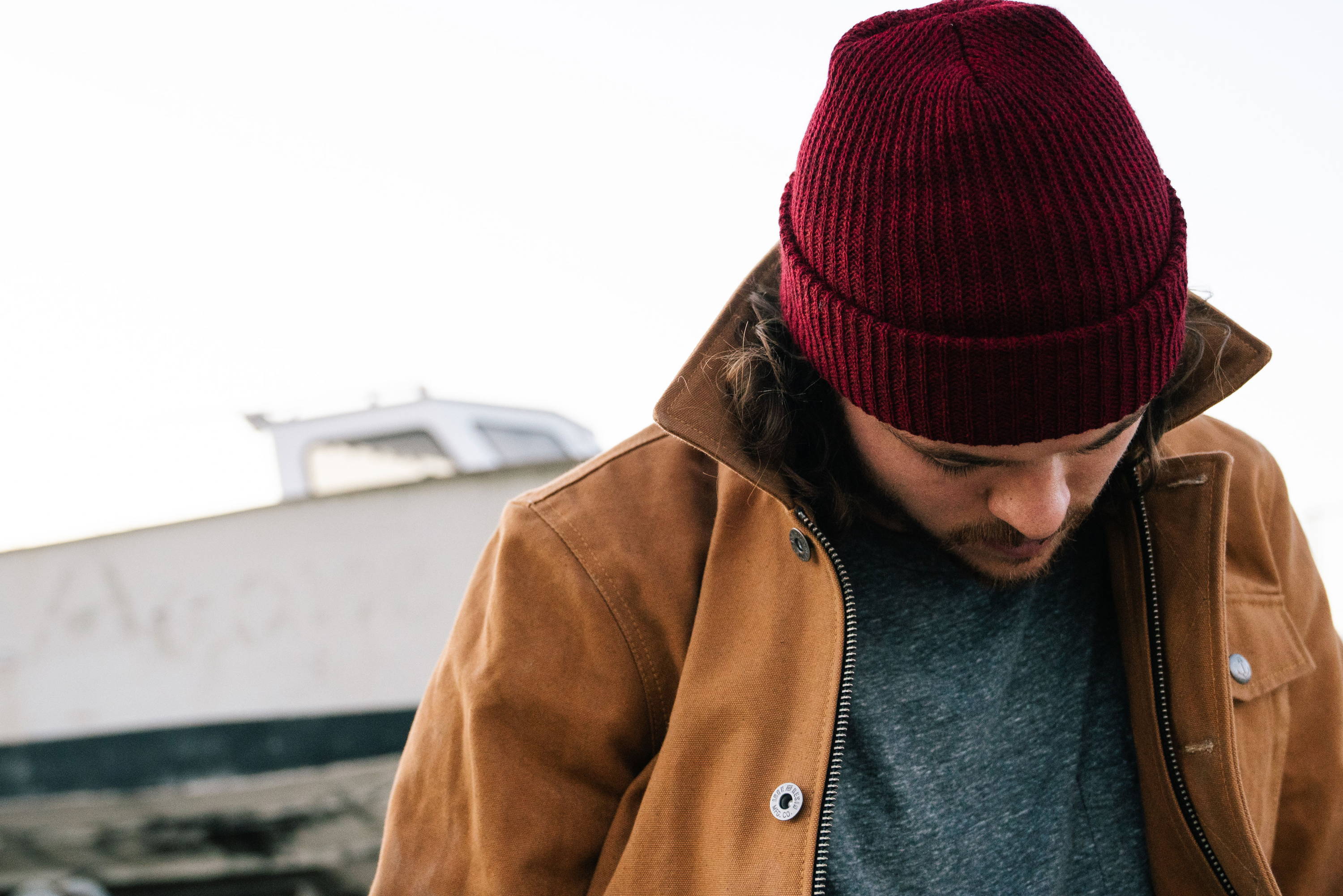 well, if you haven't figured it out by now (and you're still reading this), cotton duck is good for a lot of trades. remember, that tightly woven cotton gives its ability to block wind, resist immediate burning, and eliminate snagging or tearing. that is all really important when it comes to using a piece of clothing day-in-and-day-out. so whether you'll be in the shop or garage, in the back country or in the boat yard, duck canvas is an ideal fabric choice for workwear and outdoor clothing.
the best part of all of this? we've just launched a brand new line of Iron & Resin duck cotton canvas.
Introducing:
The Range Collection

the all new Iron & Resin Range Collection has four unique pieces (you may have seen two of them before). yes, that's right. we've reengineered our Union Work Pants and Tatham Overalls. and we're introducing two new styles as well, the Terrain Jacket and Fenceline Shirt Jacket.
check out our brand new line-up below. #purposebuiltprovisions
---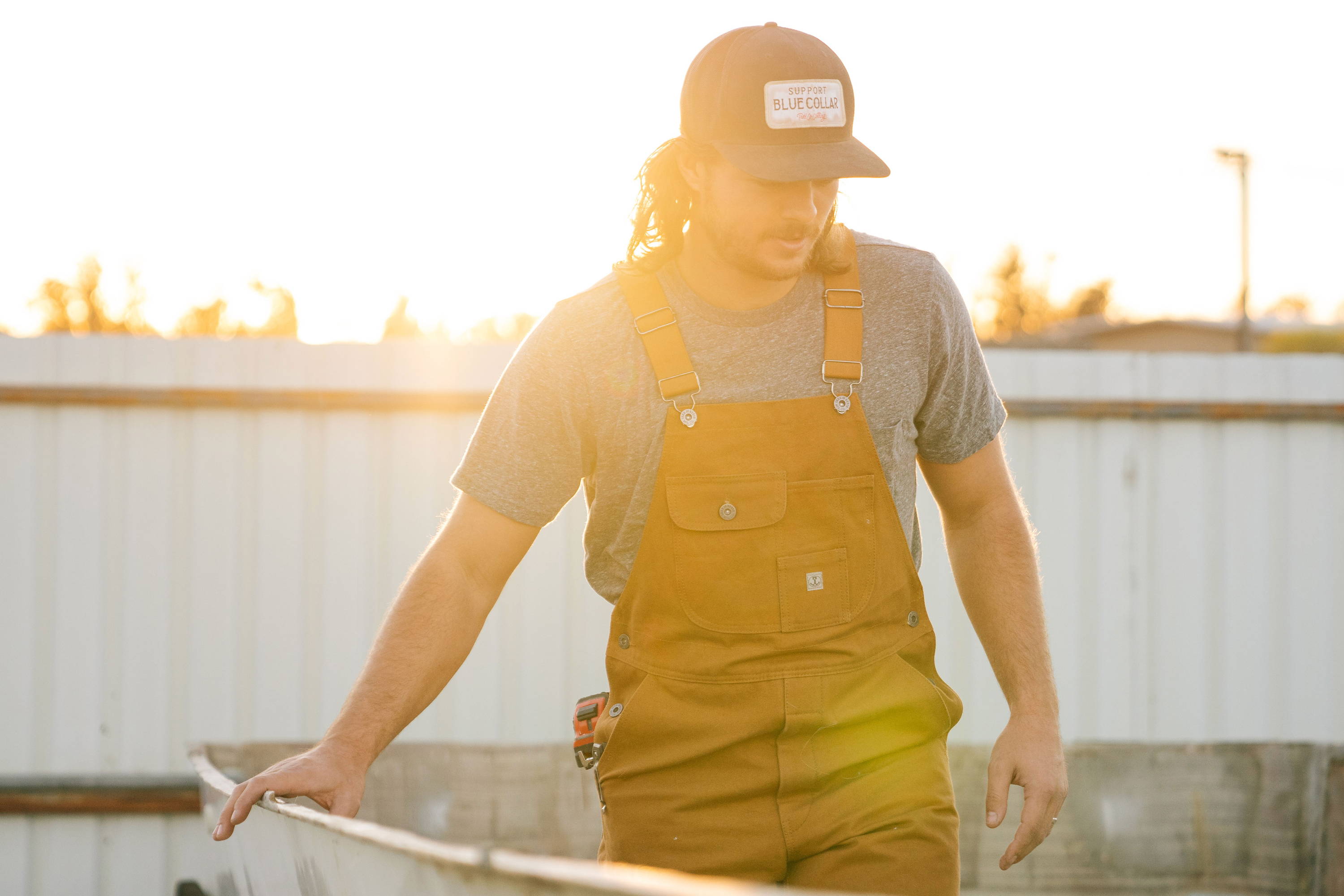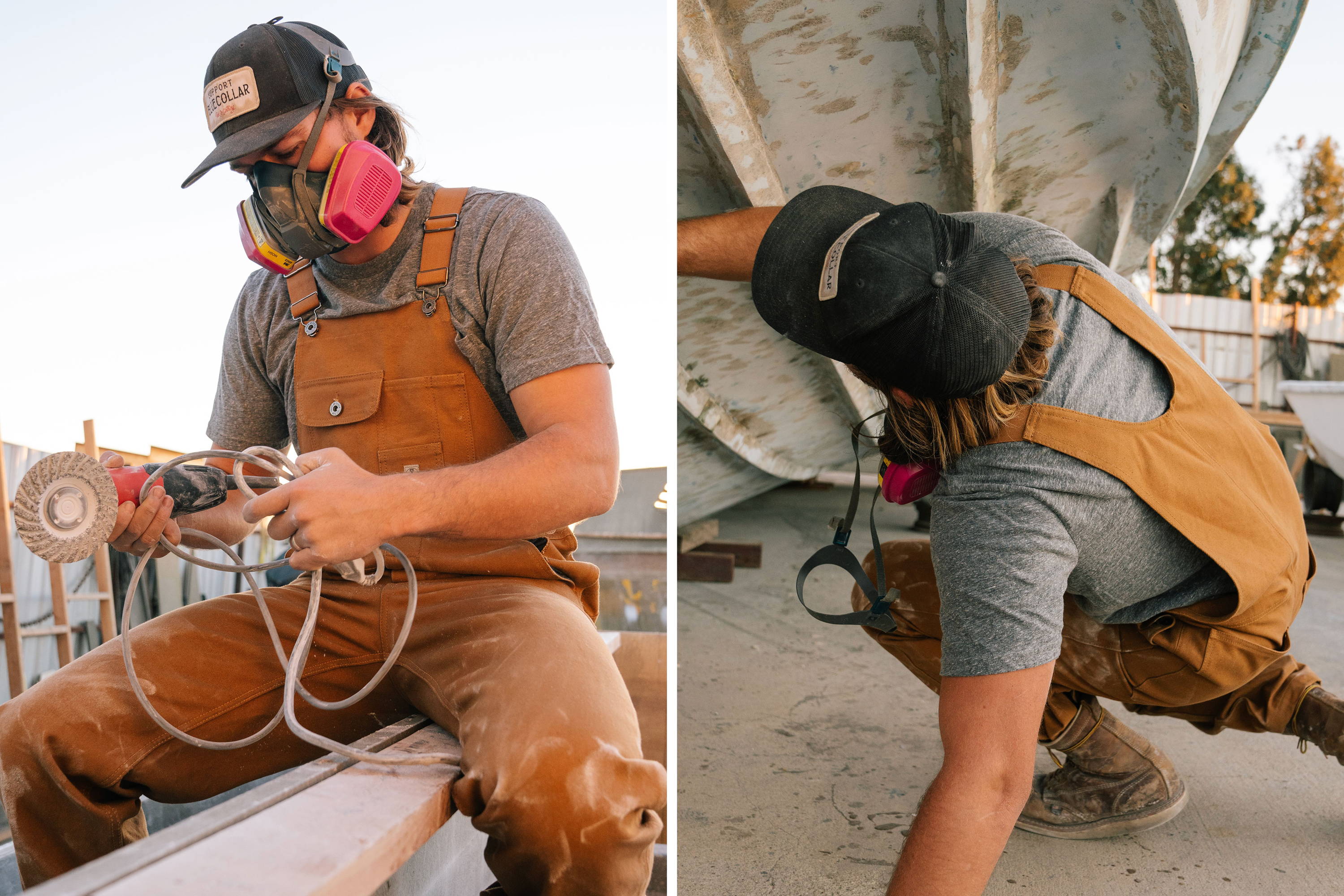 yes, this will be our 3rd official release of our Tatham Overalls. they're finally here.
we made these with a heavy 18oz duck cloth, array of front pockets for holding the essentials, super deep pockets in both the front and rear, dual shank I&R buttons throughout, and 1.5" engineered shoulder straps with just the right amount of stretch.
the Tatham Overalls are definitely comfortable to work in (and actually stay really comfortable even when weighted down), wherever and whenever, and ready for all those insane adventures you may have in mind.
---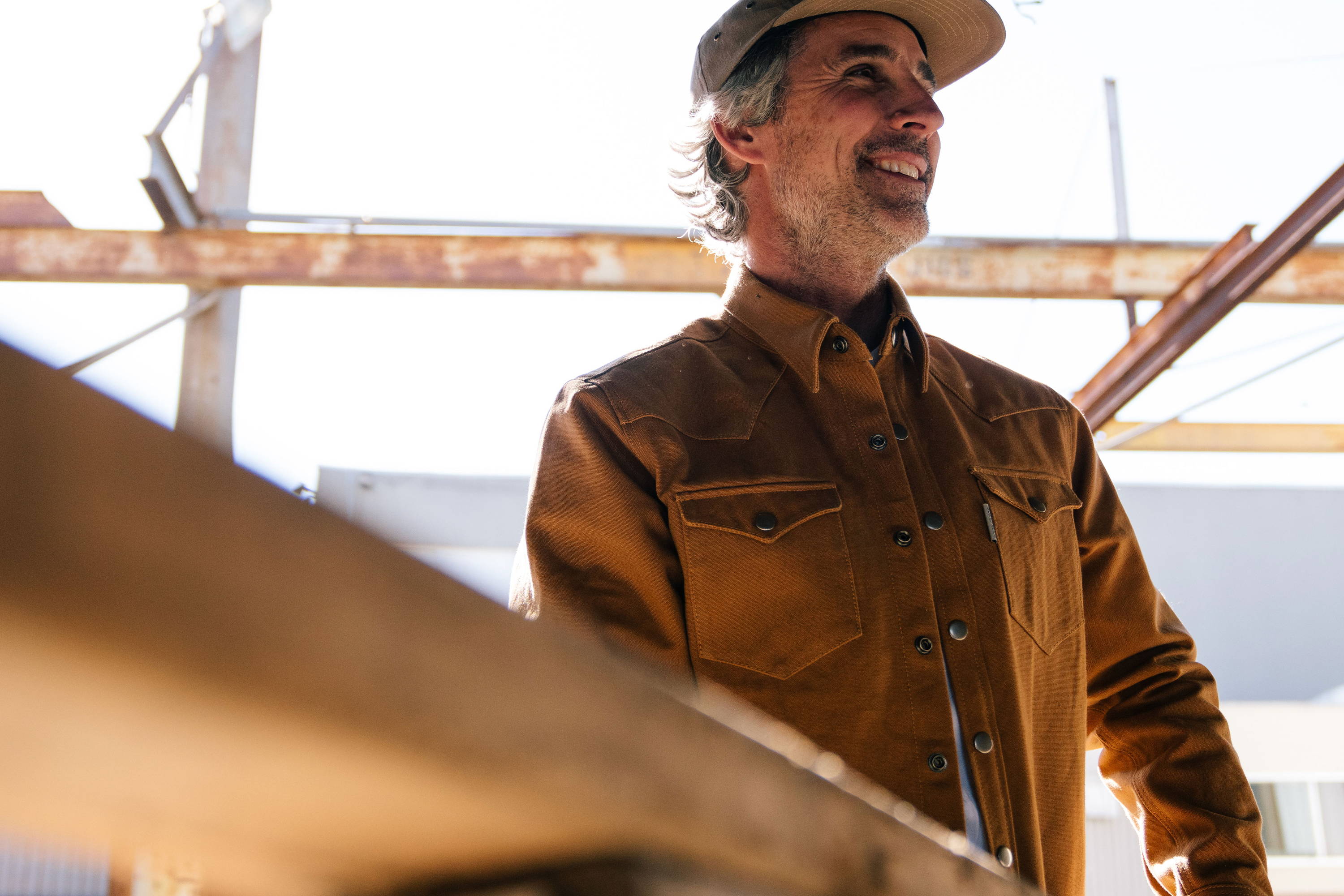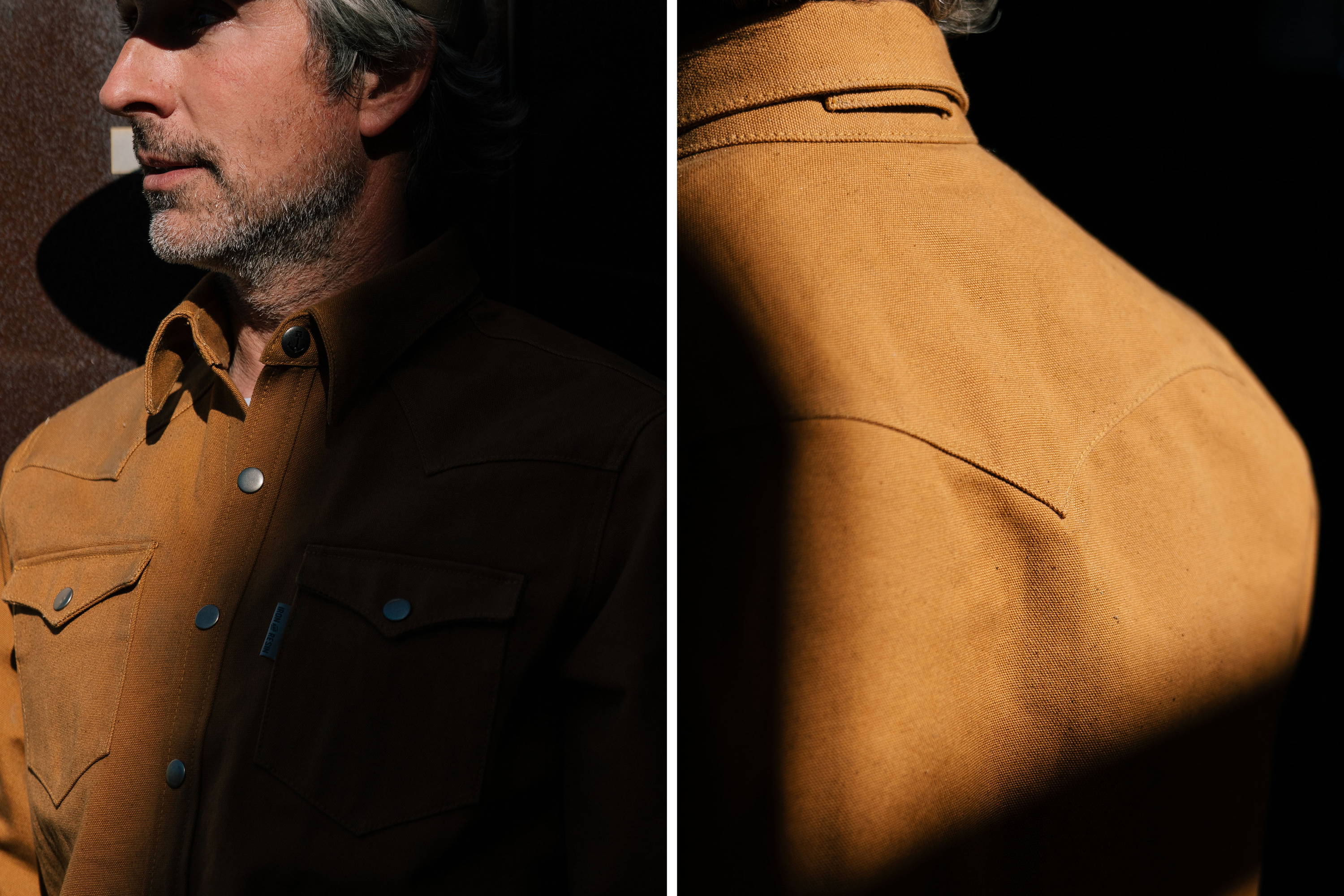 the Fenceline Shirt Jacket is definitely our favorite piece out of the collection, and we're pretty sure it's going to be an all-time favorite from here-on-out.
first off, the stylish cut and tailored fit really makes this rugged shirt what it is: a hard working shirt. from the heavy, yet quick-to-button, snap front entry, to the reinforced western style shoulder yokes, this really turned out to be that everyday shirt jacket you reach for no matter what the day has in store.
---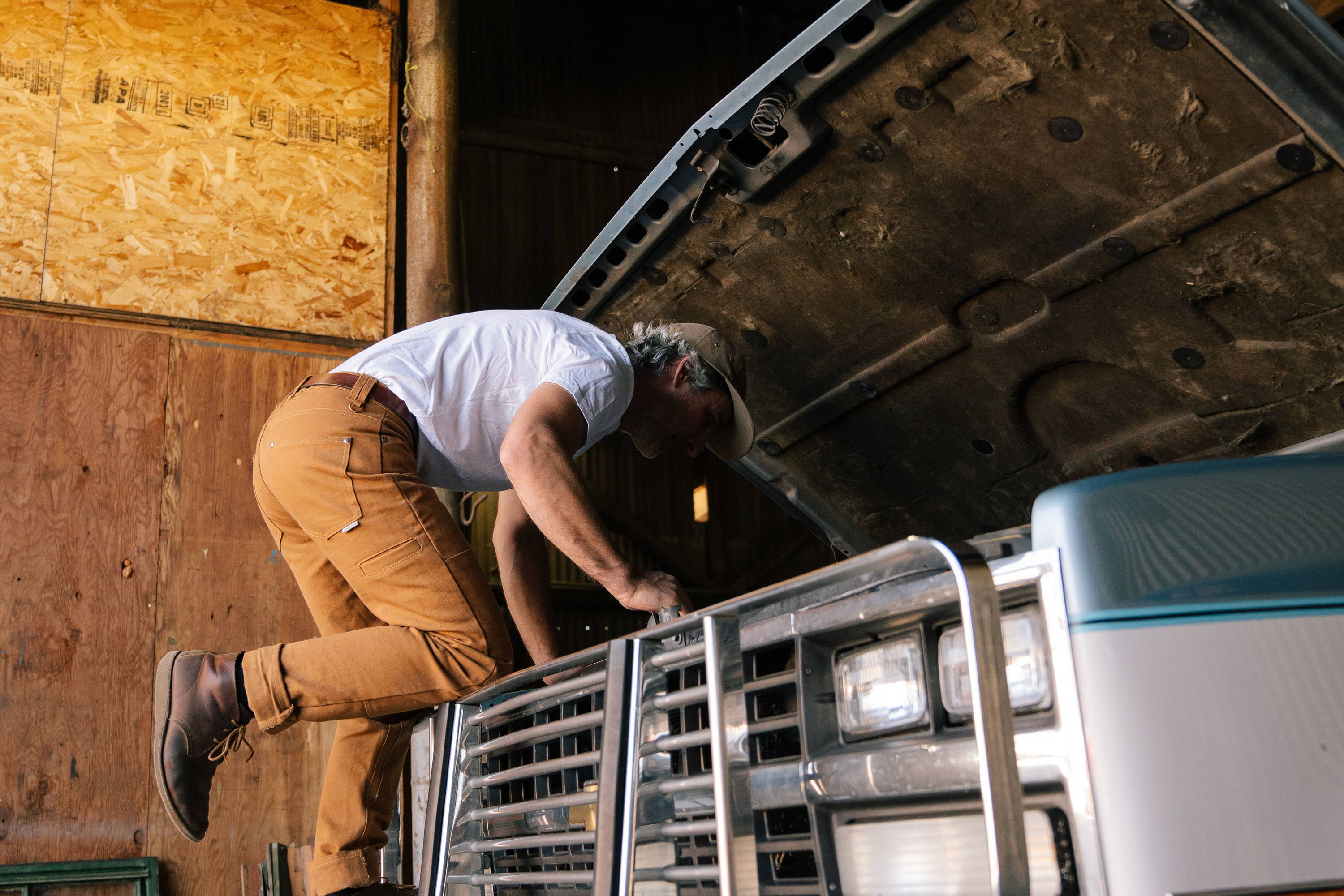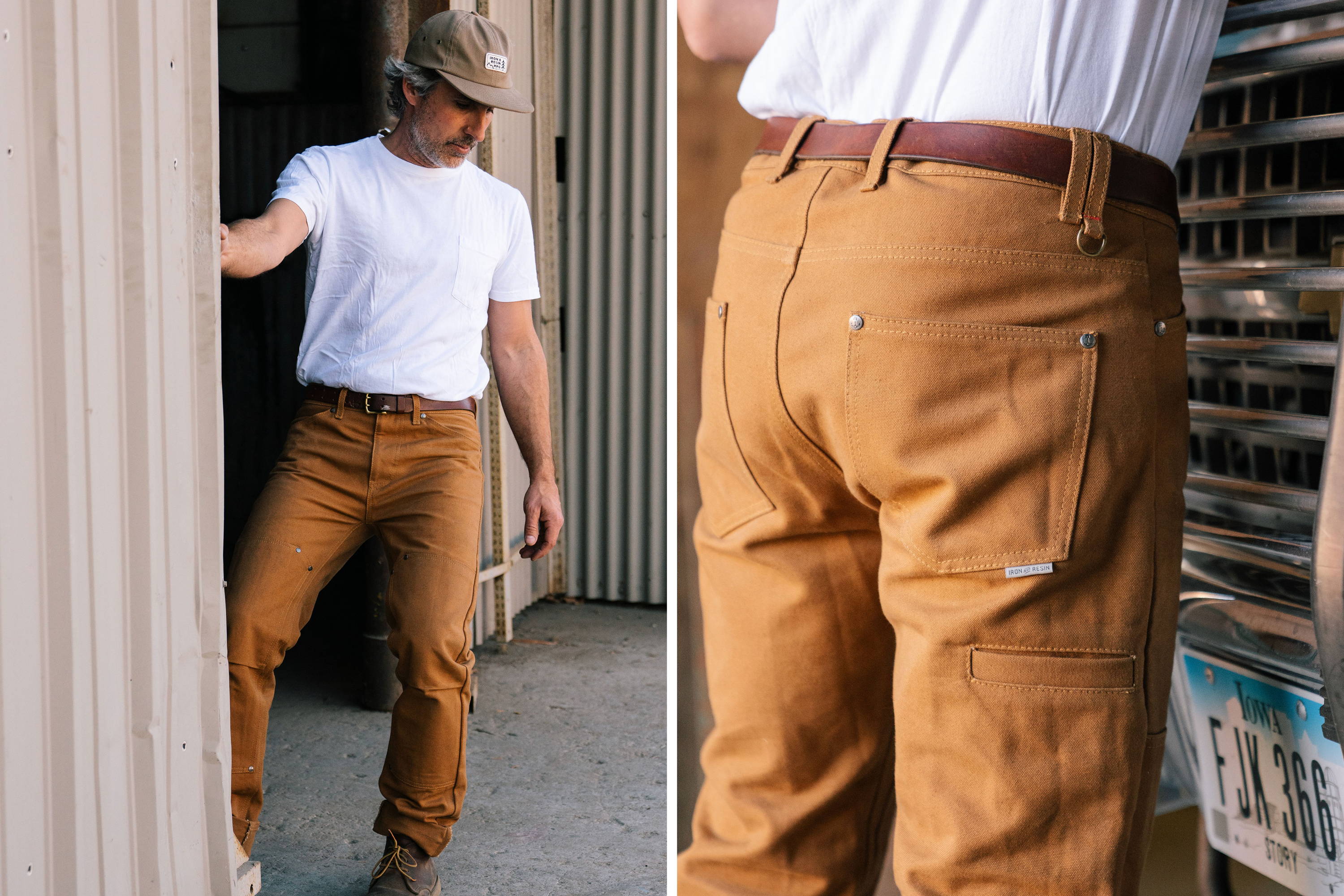 even a simplistic man can appreciate those well-thought-out bells and whistles sometimes, and we're pretty sure we have those bases covered when it comes to our Union Work Pants.
we're not sure if we left any of those details out this time around. from the rivets reinforcing all critical points on all pockets and at the knees, to the double layered knee panels and ankle cuffs, these are some badass britches. we made these rugged hard working pants for all the basic movements that happen with any task. so when you throw these slim-straight-fitting pants on they'll be ready to hold up to the abuse.
---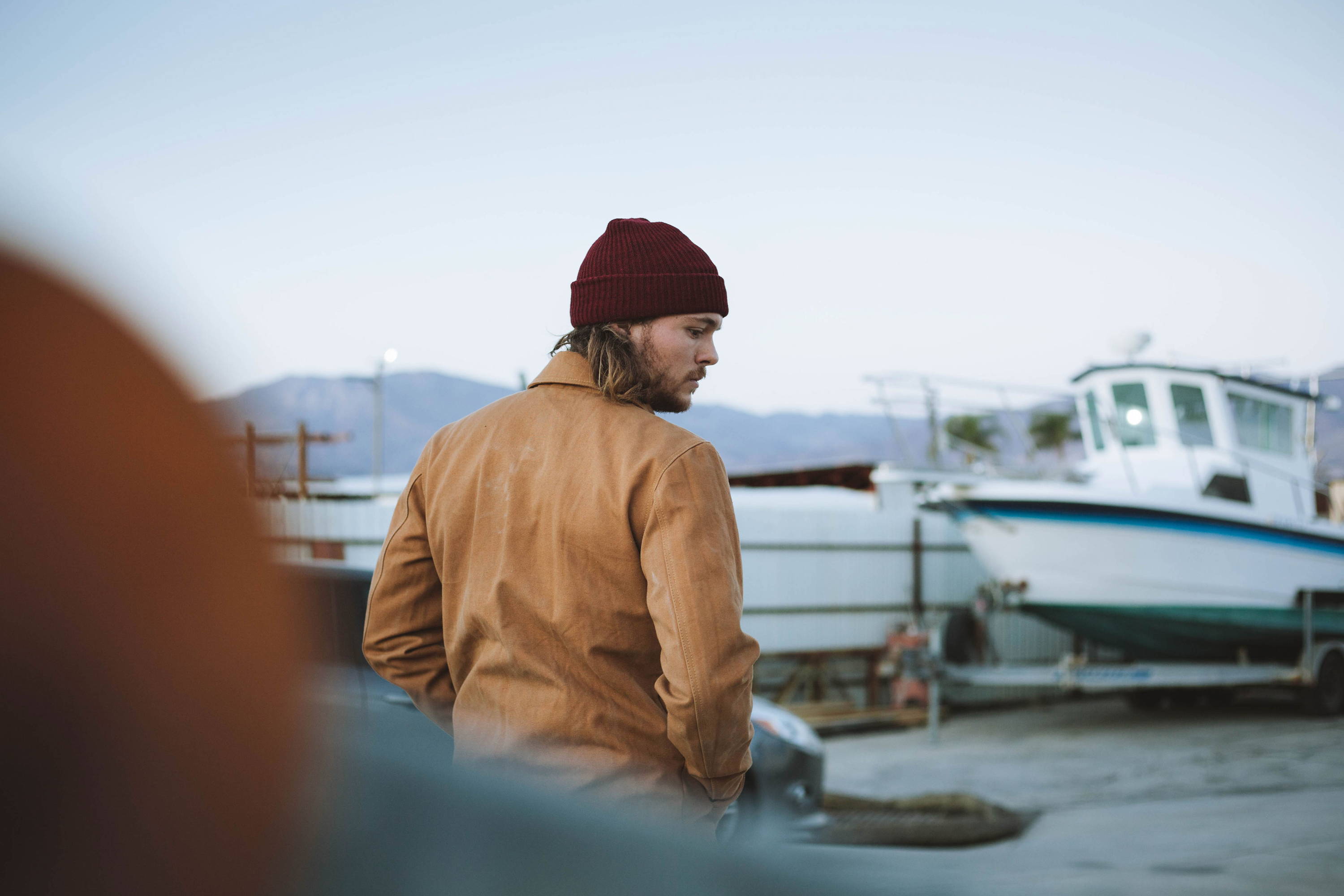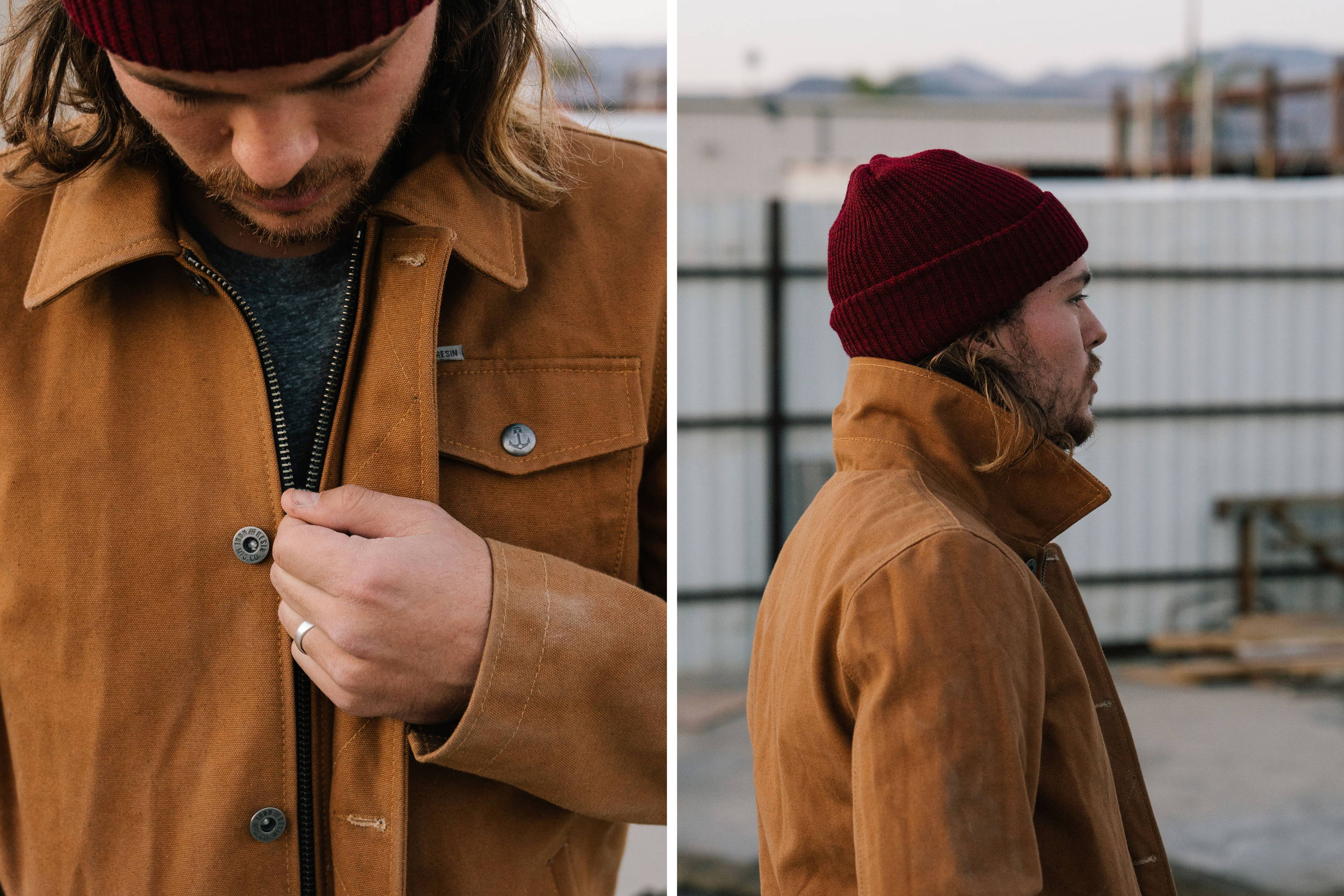 we'd say the Terrain Jacket is the big brother that the Fenceline Shirt Jacket would bring along on a colder day. it has a bit more weight on it.
made with a heavy #8 cotton duck and built with a definitive purpose. we're talking about a heavy YKK front zippered entry with a front placket that closes it all off with custom I&R shank buttons. the heavy collar on the Terrain Jacket is perfect to pop on those colder mornings or late-night, plus we added front hand pockets to keep those mitts warm when everyone's taking part in that bull-shit circle. it comes standard with a number of internal pockets for those daily everyday-carry items.